Saint John is New Brunswick's largest city. It is an industrial city, and is New Brunswick's largest port.
Saint John has two major yards, CN's Island Yard (now leased by NB Southern), and NB Southern's yard on the west side. There is also a small yard at Bayshore. Saint John has no VIA Rail service any more.
Some rail customers in Saint John are:
Irving Pulp Mill, Reversing Falls
Irving Refinery
Irving Lubricants
Esso oil tank farm
Praxair
Custom Fabricators
Ocean Steel, Saint John harbour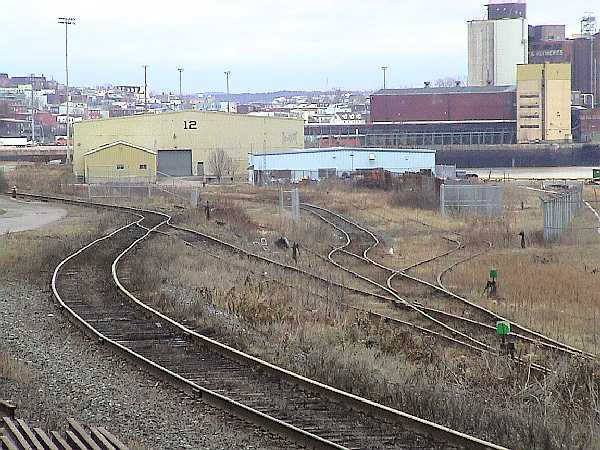 Trackage leading into the Port. The trackage leading to the left of the picture is the section used for container traffic; some of the lower trackage leads to the automobile area.
The former Lantic Sugar refinery (since torn down) is visible in the background, right.
Saint John is served by both CN and the NB Southern Railway. CN brings long distance traffic across the CN Sussex subdivision from Moncton. They also service the potash terminal on the harbour.
The NB Southern Railway brings long distance traffic across the NBSR McAdam subdivision from Maine. NBSR also performs all local switching within Saint John.
Back to New Brunswick | Home