After all the aurora fun earlier in the morning, I ended up at Marquette on the CP main line. I decided to head south to Elie, on the CN main line.
While leaving Marquette, I saw a glorious sky to the east and I stopped to take the lead photo of this post. That barn in Marquette has probably been the feature of many photos.
On to Elie.
Elie is a common place for railfans to stop, as it is right next to the Trans-Canada Highway and features one of the two remaining grain elevators between Winnipeg and Portage la Prairie. The one at Oakville is prettier, in my opinion, but it's farther off the highway and doesn't have as many angles available.
As the sun came over the horizon, it lit up the Elie grain elevator quite nicely. I decided to park myself on the east side and try a different angle. I sat there and listened to several episodes of the 99% Invisible podcast while waiting for a train to show up.
Eventually, one did.
This eastbound train, led by CN 5671 and 8807, rolled past under a gorgeous blue sky.
There was nothing really remarkable about this train, but it was nice to sit and watch it roll on by. I didn't make any attempt to fly my drone. I didn't want to overcomplicate things.
I decided to follow the train back to Winnipeg, then head back to CP again. I was on a roll and I wanted to keep chasing trains.
It wasn't clear to me whether I would be able to get to Winnipeg ahead of the train. I lucked out and managed to get to Diamond just barely ahead of the train. I used my telephoto lens to capture them rolling through the diamond. I hardly ever shoot from this angle so this was another change for me.
Note all the water in the fields!
Turning, I used my iPhone to capture them heading toward the rising sun. Note the ring around the sun, not uncommon out here in the Prairies when it's cold.
After they passed, I drove east along Wilkes Avenue, intending to go up the ramp and onto the Perimeter Highway to head north to the CP main line.
A westbound CN train interrupted that plan.
I pulled off the road and hopped out with my "long lens" still on, and captured the train passing the hotbox detector at mile 10 of the Rivers sub. You can see one of the detectors "under" the fuel tank of the locomotive, and its opposite number is visible on the other side of the tracks.
I had to time the shot to get them between telephone poles. It worked out OK despite being "into the sun". Thank goodness for digital photography.
Satisfied with my CN intermission, it was time to return to CP. More to come!
Just One More Thing
I just finished reading "The Call of Trains" featuring the photography of Jim Shaughnessy, with text by Jeff Brouws. Most people who like train photos have probably heard of Jim and seen many of his photos in TRAINS and other magazines, or in train books. His classic steam photos of the 1940s and 1950s are everywhere and, unlike many of the other "steam shooters", he didn't put his camera away when the fires were doused and diesels took over.
If you purchase something using my Amazon links, I earn a small commission at no cost to you.
The book has quite a few pages at the front describing Jim's early life and his evolution into one of the foremost train photographers in North America. Shaughnessy really developed his own style and it shows in his photos. He features people – often staged – and he did a lot of night photography in yards and roundhouses. To me the quintessential Shaughnessy photo is taken from the engineer's side of the locomotive, looking forward, like the one below (from this page).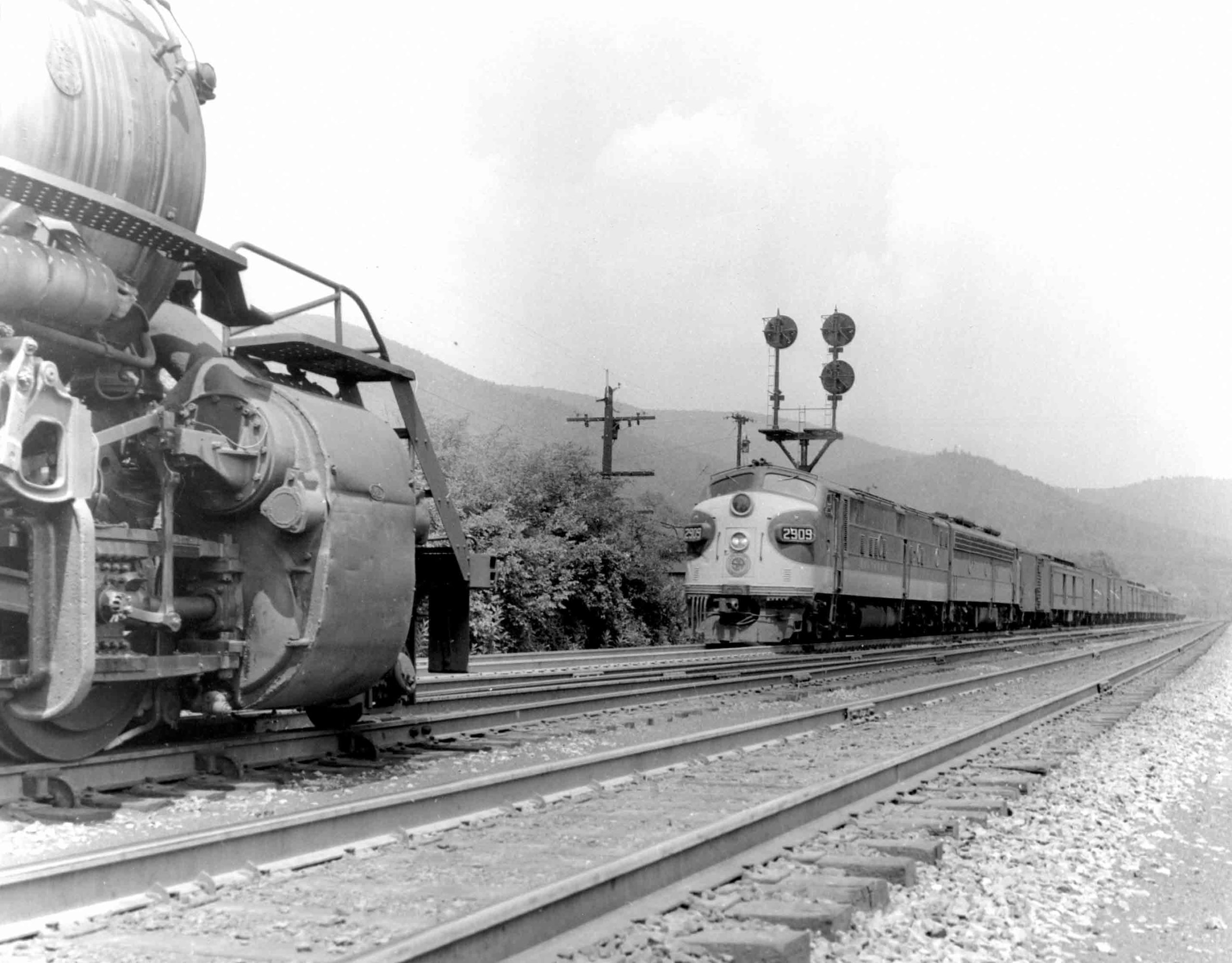 The majority of the book features Jim's black and white photos, one per page. Workers in rail yards, steam engines under repair, distant trains in barren landscapes, onboard photos… they are all there. There's even some Canadian content, as Jim traveled to Canada in the late 1950s to catch the last gasps of steam.
Jim died on August 7, 2018. He was 84.
Fortunately, his collection of some 90,000 images is now being scanned and catalogued at the Center for Railroad Photography and Art.