Here are a couple of negatives I purchased on a popular online auction site. I don't know who the photographer or photographers are.
GWWD 101
GWWD 101 was a GE 44-ton industrial locomotive, built in September 1949 and purchased new by the Greater Winnipeg Water District Railway. My 1983 "A Trackside Guide to Canadian Railway Motive Power" book (before it was shortened to The Canadian Trackside Guide) lists it as one of four 44-tonners owned by the GWWD at that time (GWWD 100-103).
Eventually the GWWD would acquire some RS-23 locomotives and move away from the 44-tonners. GWWD 100, 101 and 102 were sold to the Ontario Southland Railway in 1994 and on to other owners several years after that.
They recently acquired a couple of small locomotives again, I believe with the intention of running them as local switchers at the end of the line or at the Deacon Road facility. See The GWWD's 44 tonner on the move for more information.
Mack Car 31
This is a fascinating piece of equipment. GWWD 31 is a "Mack car". You may have heard of Mack Trucks; well, they made locomotives for a while, too. According to this lengthy series of posts, Mack made their prototype gas-electric locomotive in 1921, a tiny locomotive powered by two 40HP gas engines.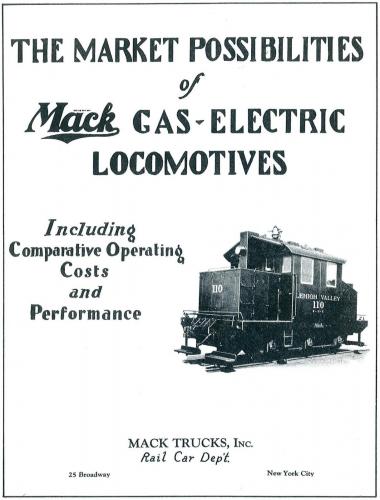 They started production in 1927, making locomotives with one, two, three or four gas engines driving generators to power electric motors on the wheels. They made locomotives from 12 tons to 80 tons in weight, and ceased production in 1960.
Mack Car 31 is what is sometimes known as a "doodlebug", a self-propelled passenger car where a gas engine powers a generator, making electricity to drive the wheels.
If you check the Winnipeg: All-Time Fleet Roster (umanitoba.ca) you'll see this Mack Car was originally built in March 1928 as Winnipeg River Railway # PM-5. It had a short life with the WRR before going to GWWD in 1935 as #2, later renumbered to 31.
Apparently it had been involved in a collision with a cheese truck in the 1970s and was known thereafter by fans as the "cheese slicer".
Sadly 64 years of service came to an end in the fall of 1992 when GWWD 31 collided with a semi / transport truck at the highway 11 crossing. It was returned to St. Boniface yard but never returned to service.
Other GWWD Images
You might be interested in these other posts about the Greater Winnipeg Water District Railway: